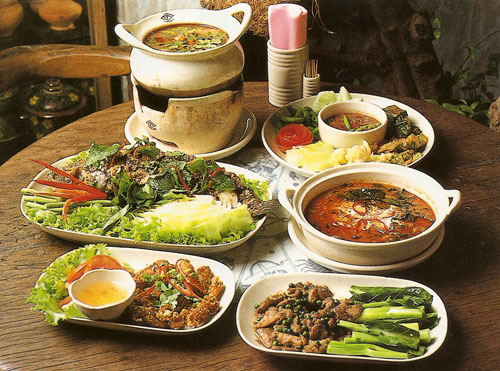 Thai Foods Blog: Thai food into one of the most popular food in the world and get some attention. Thai food is a work of art created by combining the flavors of authentic Thai food is spicy, sour, sweet and salty, with a variety of spices and herbs that are good for health. Flavors to blend together perfectly on all four flavors in each dish, making the foreigners from all over the world are fascinated. The traditional Thai sweet. The resolution was mild in flavor and exquisite decor, such as Carved fruits and vegetables. Which is often used to decorate food. The court cuisine.
Not too long ago with the cooperation between the Ministry of Foreign Affairs and National Culture Commission. Ministry of Culture. Has announced the top ten Thai foods list that foreigners enjoy the most. A survey of Thai restaurants around the office. The survey questionnaire in a Thai restaurant, one of thousands around the world. Top 10 Thai Foods list of foods that have been most popular in foreign countries.
1. Kang Keaw Wan Gai Green Chicken Curry


Since we are having three dishes in a row made of "Gai", you would have guessed that it is the Thai word for chicken. Chicken is on of the popular meats used in Thai cuisine; it is usually available in most curry and soup.




2. Tom Yam Goong :Spicy Shrimp Soup
No other dishes can defeat this renowned Tom Yam Goong as the optimal representative of Thai gourmet. Tom Yam Goong is truly one of a kind with its fierce spiciness and sourness and a blatant use of fragrant herbs including galangal, lemon grass, kaffir lime leaves, shallot, tamarind and chili pepper.
3. Pad Thai Fried Noodle
This national dish prides itself for its long history traced back in previous centuries. Pad Thai flaunts the authenticity of Thai culinary arts in using only fresh and best ingredients and the well-balancing of the five fundamental flavors. The stir-fried noodle has become popular because it tastes yummy and is served with a variety of seasonings to suit your tastes.
4. Tom Kha Kai :Chicken in Coconut Milk Soup
Although Tom Kha Kai is another variation of chicken soup, it deserves the No.4 because of its unparalleled taste and popularity. Similar to Tom Yam Kai, the broth is prepared with many types of Thai herbs with the special addition of coconut milk that makes this soup unique.
5. Tom Yam Gai :Spicy Chicken Soup
Chicken soup is very good to eat when you have a cold but Tom Yam Gai or spicy chicken soup is a yummy treat that you will fall in love with just in a first sip. Tom Yam Kai is a clear chicken soup seasoned with a blend of chili, lime and fish sauce.
6. Moo Sa-Te :Grilled Pork Sticks with Turmeric
This tantalizing sweet-flavored grilled pork sticks are refined with rich, juicy sauce made of turmeric and curry powder. Moo Sa-Te makes a savory hors d'oeuvres that will appease any taste buds.
7. Som Tam: Spicy Papaya Salad
Som Tam is one of the most popular foods among Thai people for its fiercely spicy and sour flavors. Som Tam, which literally means "Sour Pounded", is a spicy salad made from a mix of fresh vegetables including shredded unripened papaya, yardlong beans and tomato.
8. Panaeng : Meat in Spicy Coconut Cream
Panaeng can be cooked using either pork, chicken or beef. Panaeng tastes like Thai red curry but the coconut milk sauce is thicker and richer. Compared to Thai red curry, Panaeng is mildly spicy and sweet.
9. Gai Pad Met Mamuang :Stir-Fried Chicken with Cashew Nuts
Even though Gai Pad Met Mamuang does not represent the overview of Thai food but it is a very nice treat to your taste buds.
10. Por Pia Tord :Fried Spring Roll
Fried spring roll is one of the most popular appetizers for foreigners because it is not spicy and comes with sweet and sour dip. Spring rolls are crispy pastries with fried vegetable fillings.
By:
Thai Foods Blog